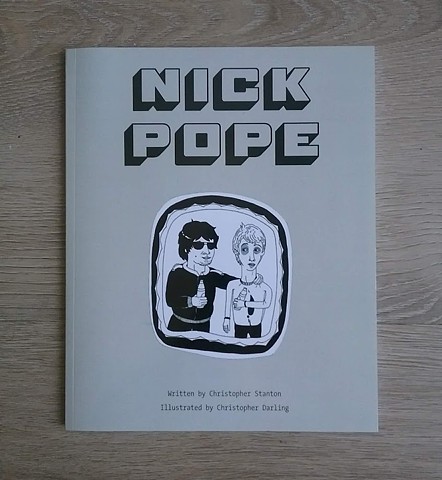 Thanks for stopping by! I'm a creative writer and artist in Los Angeles.
My educational background is in screenwriting and creative writing, at NYU and USC. I've published a novel (Kings of the Earth) and a short story collection (The Underachiever: Collected Stories) and written several screenplays. My short stories have been published in a dozen literary magazines.
I'm currently seeking representation.
Nick Pope, a diary written by me and illustrated by Christopher Darling, is now available for purchase. I'm so proud of this extremely special project. You can buy the book from Amazon and Barnes and Noble, and read more about it here.
I also have an unpublished collection of linked short stories (Dandelion Crossing) and I'm working on the second draft of a new novel (Neon Muscle.)
I've been making art for more than 15 years, and I've shown my work in more than fifty shows across the country.
Check my Portfolio for more about me, my writing projects and galleries of my art.
Click on my Creative Resume for a detailed list of my exhibitions and publications.
Check out Links to visit the websites of some of my talented artist pals.
And visit News for the latest!
+++++++++++++++++++++++++
The Underachiever: Collected Stories 2000-2010 is available on Amazon - in paperback and Kindle! Most of these fifteen stories were published in various literary magazines -- and they center on ordinary working-class characters, feeling lost and stuck in their lives, and the spark that jolts them out of it. You can buy the collection here.
Kings of the Earth is also available in paperback and Kindle on Amazon. I wrote the first draft of this novel about a haunted surfing town almost fifteen years ago, so this is a long time coming. You can buy this literary ghost story here.
I'm also working on the second draft of a new novel, Neon Muscle. Set in Los Angeles in 1983, it centers around a huge fitness center as it nears its one-year anniversary. The book traces five diverse characters all connected to Neon Muscle as their paths cross during three weeks in December. It delves into the panic that ensues as members of the club start contracting AIDS, as well as exploring the art gallery and male strip club scenes of the time. Ultimately, these men and women are just desperate for companionship at the spot that is deemed the new singles scene of the 1980s.
My other manuscript - Dandelion Crossing -- was named one of four finalists in the 2021 Elixir Press Fiction Award. With nearly 300 entries, this is a huge honor for me.
This short story collection, which is a prelude of sorts to Neon Muscle, tracks the first week of a controversial, brand-new suburban shopping mall in 1983 and is told through the stories of fourteen characters who work or visit there. From a gay arcade manager to an elderly widow who ventures to the mall salon for a perm, their individual stories — which come together to form the larger, overarching narrative — chart how different people of various classes and backgrounds live, love, struggle, and survive during this era of Reagan's America.
I'm currently seeking representation -- or a publisher -- for it!
If you've read The Underachiever or Kings of the Earth and want to talk about them, if you're an agent, editor or publisher with questions about my books, or if you have any inquiries at all, I'd love to hear from you! Drop me a line at: cobbler3@yahoo.com.
++++++++++++++++++++++++++
I've undertaken all kinds of art series, but lately I've been most drawn to surfers, boxers, wrestlers and portraits of random folks who spark my interest.
The art displayed here is only a small portion of my portfolio, and much of it is for sale. Look for the prices on individual item pages that allow you to purchase them using Paypal. The listed price includes shipping.
If you don't use Paypal, message me and we can make other arrangements! My goal is to get you something you really enjoy, at an affordable price.